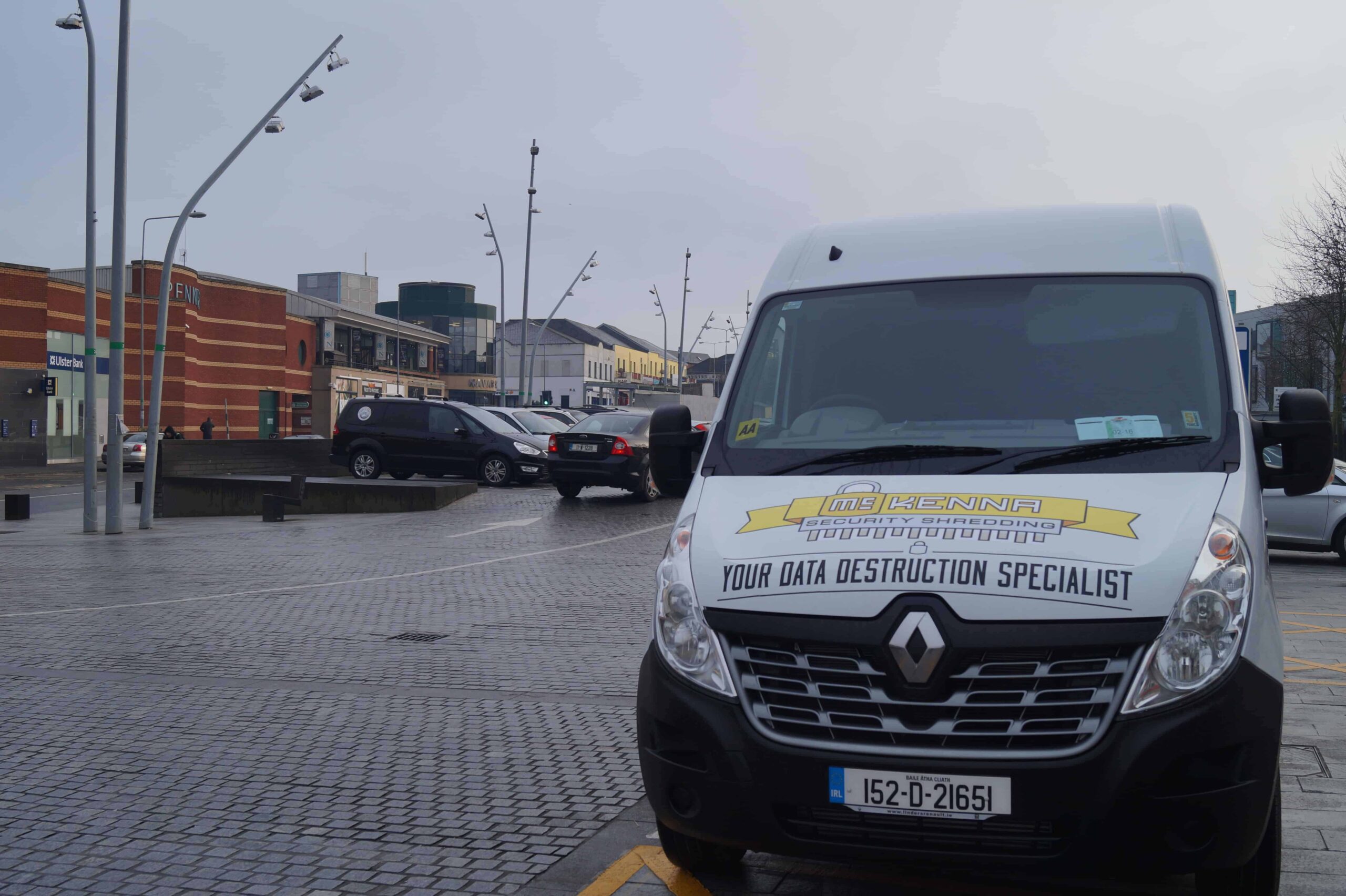 Paper Shredding in Meath
McKenna Security Shredding are your proven Data Destruction Specialist in the North East servicing Meath, Dublin, Louth, Cavan, and Monaghan.
Paper Shredding in Meath
McKenna Security Shredding are strategically located just outside Duleek in East Meath only 15 minutes
from Navan and can reach any part of Meath within 30 minutes. We service this area with our fleet of vehicles on a daily basis and offer a selection of tailor made document shredding solutions to meet our customer's needs.
All areas of Meath are serviced whether urban or rural by McKenna Security Shredding;
Ashbourne,  Athboy, Balrath, Bective, Bellewstown, Bettystown, Kilbride, Clonard, Clonee, Donaghpatrick, Donore, Drumconrath, Duleek, Dunboyne, Dunmoe, Dunsany, Dunshauglin, Enfield, Gormanstown, Johnstown, Julianstown, Kells, Killeen, Laytown, Mornington, Moynalty, Navan, Nobber, Oldcastle, Ratoath, Skyrne, Slane, Stamullen, Summerhill, Tara, Trim.
The current increase in data theft has a direct correlation with financial fraud on individuals, therefore it is imperative that organisations and individuals take care of their sensitive and confidential information. Sensitive information should be managed in the correct manner and in partnership with your licensed shredding company you should have a strategy in place to manage your confidential waste.
Our mobile On Site and Off Site shredding services offer flexibility and peace of mind as customers can be assured their confidential waste is shredded with industrial machinery to the highest of standards.
From start to finish the process is carried out in a professional and efficient manner with security always in mind.  All shredded material is shredded to the highest standards with material shredded into tiny particles whereby information is impossible to retrieve. After the shredding process is completed all material is recycled into paper based products which ensures the process is environmentally friendly.
On completion of all shredding jobs a certificate of destruction is supplied which ensures your company is compliant with The Data Protection Acts.  https://mckennasecurityshredding.com/legislationcompliance/
Whether you require a one off collection or a regular scheduled collection, McKenna Security Shredding will ensure you receive the service that best meets your requirements. We cater for all sizes of jobs from a small number of sacks to large office/warehouse Bulk clear out.
Our regular collection service is available for both On site and Off site shredding customers. Scheduled collections (e.g., daily, weekly, monthly) can be established to best suit your requirements. We provide a variety of secure receptacles to hold your confidential waste including lockable office consoles, secure shredding sacks and tie-wraps, and we will advise you on which receptacles will work best in your environment.  https://mckennasecurityshredding.com/bin-consoles/
Call our team now, who will then arrange for your local dedicated account manager to call to your site in order to assess your requirements. This is a free consultation whereby your site and requirements will be assessed and afterwards you will be supplied with a strategy on how best you can manage your confidential waste to ensure the highest levels of security and compliance for your company are continuously achieved.
John McKenna
General Manager
McKenna Security Shredding
East Commons
Drogheda Road
Duleek
Co Meath
086-0796115
041-9823945