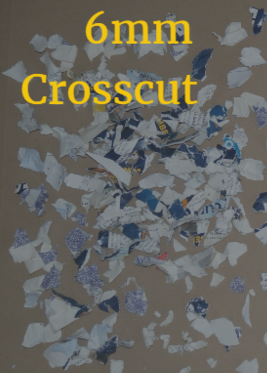 Highest level of Paper Destruction
At McKenna Security Shredding we ensure that our customers experience the highest level of security in relation to confidential paper destruction. From start to finish the process is carried out in a professional and efficient manner with security always in mind. Most Shredding Contractors within the Irish market use 16mm cross cut shredding machinery. McKenna Security Shredding have taken security to a new level as our customers have access to 6mm cross cut shredding machinery .This ensures your material is shredded into tiny particles safeguarding your information ensuring the highest level of paper destruction.
Office shredders are generally straight cut shredders which have a low security level. If this shredded material gets into the wrong hands there is the potential for confidential information to be retrieved which could be detrimental to your business.
DIN (Deutsches Institut Fur Normung) is a registered non-profit standards association that was founded in 1917 in Germany.
DIN 66399 covers 5 additional data carriers other than paper/print media that are classified accordingly. For paper and Print media the letter 'P' is utilised for the classifications. Each classification size is listed below:
Classification
Level P-1 = ≤12 mm wide strips of any length
Level P-2 = ≤6 mm wide strips of any length
Level P-3 = ≤2 mm wide strips of any length OR ≤320mm² particles (of any width)
Level P-4 = ≤160mm² particles with width ≤ 6mm
Level P-5 = ≤30mm² particles with width ≤ 2mm
Level P-6 = ≤10mm² particles with width ≤ 1mm
Level P-7 = ≤5mm² particles with width ≤ 1mm
McKenna Security Shredding are one of the only Irish companies who can offer a level P-4 via On Site shredding technology.
See the comparison between each shredding blade above in level of shred image.
With 30years experience call today and speak to the experts today and discuss your shredding requirements.
Eugene McKenna
Director
McKenna Security Shredding
East Commons
Duleek
Co Meath
041-9823945