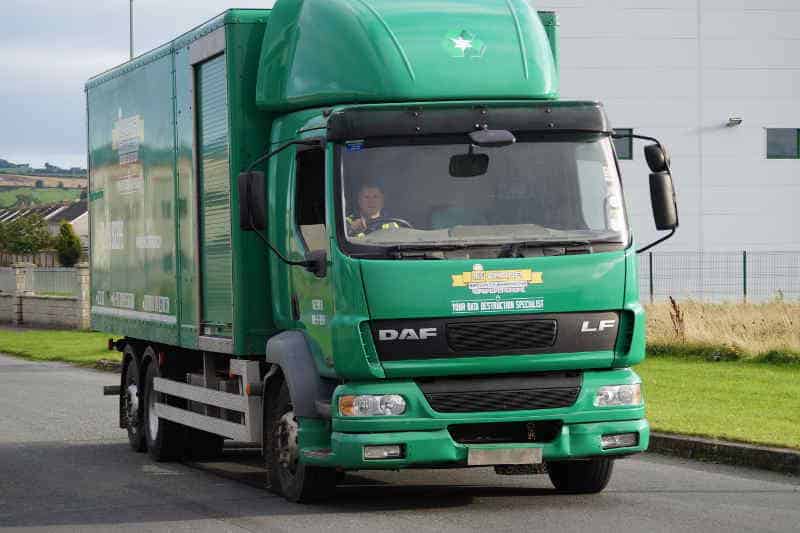 On Site Document Shredding
All On Site Document Shredding Services carried out by McKenna Security Shredding are consistently completed to the highest security standards. On Site shredding is statistically the most secure and safe method of disposing your confidential documents. Our process ensures total data security from the beginning of the process until the final destruction of your data. ;
On Site Shredding– Whereby our Mobile Shredding truck shreds your confidential material on your premises. This is carried out to the highest of Standards via Shred Tech System which is viewed within the industry as best in class. Our On Site Shredding Truck shreds 1.5tonne per hour and has a payload of 4tonne which means the truck can complete five average size (500kg of confidential material) customer shredding jobs in one day before the truck has to return to our secured facility to off load.
McKenna Security Shredding hold all relevant Waste Collection Permits.
McKenna Security Shredding hold a Facility Permit for their premises which has strict requirements for the disposal of confidential material and is consistently monitored by the relevant government bodies.
On Site Shredding Truck and collection vehicles are GPS tracked.
Certificate of destruction is supplied on completion of all shredding jobs to ensure you are compliant with Data Protection legislation.
Once your confidential material is shredded, it is then sent to Paper Mills to be recycled and this can be included as part of your companies carbon reduction policy.
Apart from the above, we have over 30years experience within the Data Destruction Industry with an unblemished history. Our services are tailored to ensure the security of your confidential material is never breached.
We are a family run shredding company that takes pride in providing our new and long standing customers with the best in class shredding service to ensure that their confidential data is never breached.
We cover the following areas;
Louth, Meath, Dublin City, Fingal, South Dublin, Dun Laoghaire-Rathdown, Cavan and Monaghan
Call the shredding expert's today .
Eugene McKenna
Director
McKenna Security Shredding
East Commons
Duleek
Co Meath
041-9823945